Micropigmentation
Micropigmentation is the perfect solution for men who shave their head and would like to give the appearance that shaving is a style choice as opposed to a response to thinning hair. This method is a non-permanent hair tattoo and is recommended for covering scars as well as filling thinning hair density. The tattooed pigment gives the illusion of a full head of follicles and also saves time from shaving daily or multiple times a week.
Micropigmentation can also be used for men and women in the early stages of thinning. Placing pigment between the existing hair decreases the contrast between the hair and scalp thereby giving a fuller and denser appearance.
Stephen is 28 years old. He's a marketing manager in a tech start-up in New York. He has always worn his hair closely shaved to his head, but now he's noticing that his hair is thinning and his hairline is receding. This is stressing him out and making him lose confidence when it comes to going out for drinks, dinners and more. He just wants to "fill in" those thinning areas! He stumbles across micropigmentation one night while researching different solutions, such as FUT and FUE. It's a quick one-day procedure and seems to be the perfect option for him. He quickly books in for a free consultation with Look Natural Hair Restoration.
Offering a truly premium service, Dr. Ross is one of the few physicians who carries out micropigmentation himself. Aestheticians or clinicians are able to complete the procedure, but there's nothing quite like a trained medical eye for getting micropigmentation just right.
With delicate needles and a doctor's expertise, this is world's apart from a traditional tattoo. Thousands of dots combine to create an expertly planned, cosmetically appealing vision. Using different distributions, depths and shades, Dr. Ross positions each dot in a way that fills in the scalp and replicates the appearance of hair follicles.
This is particularly effective for men who are balding and usually wear their hair closely-shaved. The tattooed dots naturally look like closely-shaved hair, creating a very natural look.
We can:
Fill in thinning hair
Reshape hairlines
Cover scars
Cover FUT scars
Restore visual density
Decrease appearance of widening parting
Conceal alopecia
You can learn even more about Micropigmentation by reading our recent blog post; A Deep Dive into Micropigmentation.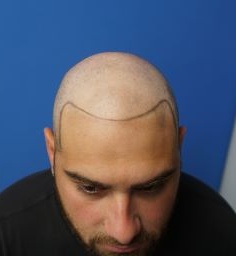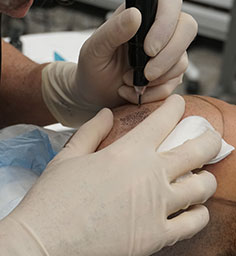 The procedure is fast, simple and effective, with very low levels of pain and discomfort. Patients can be back in the office the very next day.
Micropigmentation uses semi-permanent cosmetic ink as opposed to tattoos which use permanent ink. These inks stay true to color so that black and shades of black don't turn bluish or greenish over time. Also, this allows for a change of hair color, style or loss over time while the micropigmentation results continue to look natural. These inks typically last approximately 3-5 years with the rate of fading determined by several factors such as body chemistry and exposure to sun.
Testimonial
Michael Gianetta has always been an outgoing and active person. He has a background in both wrestling and dancing and now in his 50s, his dedication to health and fitness has only grown.
When he started to lose his hair, Michael wasn't too concerned. But over time the hair loss impacted his confidence and he began growing his sideburns longer, to distract from the bald area at the top. For over a year, Michael searched for other solutions, until he found micropigmentaton and Look Natural Hair Restoration.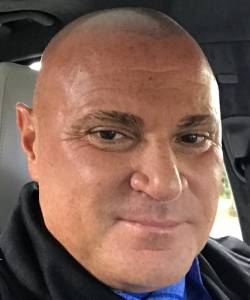 Michael's micropigmentation procedure was accomplished over three sessions, slightly varying the shade of ink each session to give depth to the ink so it doesn't look flat and gives a more realistic appearance. It was a collaborative process and Michael felt he was able to ask for the exact look he wanted. Here's what Michael had to say:
"Dr. Ross is a great doctor and has also become a good friend. He truly listens and is very understanding. The finished product looks amazing."
The fact that Dr. Ross is a trained medical doctor was of particular comfort to Michael and brought a new level of expertise to the procedure. Now, he says that his confidence is back and the way his hair looks has boosted his happiness and health-conscious attitude. Long-term, Michael says that nobody even notices the procedure. It's very subtle and people simply think he shaves his head.